Waitomo Homestead Cabins
Accommodation in the heart of Waitomo
The Waitomo Homestead Cabins are the perfect place to stay in Waitomo. Located just 10 minutes from the famous Waitomo Glowworm Caves, with comfortable beds, modern facilities and a beautiful villa and gardens, to relax, enjoy nature and get a good night's sleep.
Our two-bed and four-bed Cabins are suitable for couples, families and friends looking to immerse themselves in the local charm of the Waitomo region. Set amongst the rural rolling hills of the Waikato, a stay at the Waitomo Homestead Cabins is a true escape from the hustle and bustle of city life.
When you're not exploring the cave networks of Waitomo, spend time playing board games on the villa's sunny deck, enjoying the onsite Homestead Restaurant and gardens or reading a book on your cabin porch.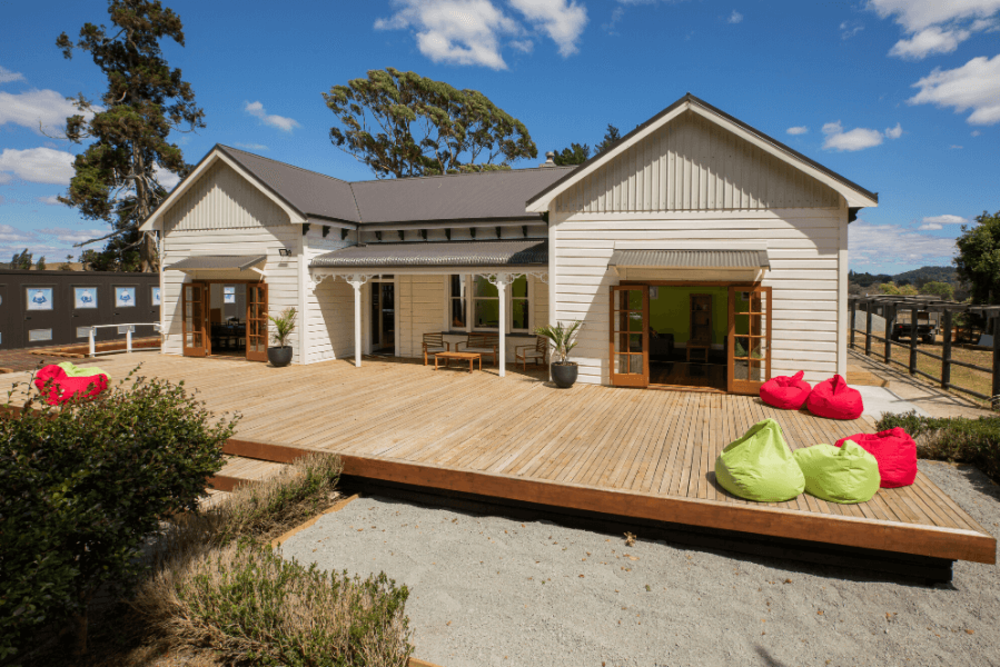 A comfortable, private bed
Spacious king single beds with double duvets can be found in all rooms, with the four-bed bunk rooms also having privacy screens. USB and power points can be found by all beds.
Shared bathroom facilities
Bathrooms are large, private and equipped with hot and powerful showers, toilets, sinks and large mirrors. You'll also find an accessible toilet/shower and coin-operated laundry facilities.
Central, communal kitchen and living area
The villa is home to a fully functioning kitchen (including all utensils!), communal relaxing areas, a selection of board games for you to enjoy and a large sunny deck.
Homestead Restaurant and gardens
The Homestead Restaurant and gardens are a stone's throw from the cabins. Don't miss out on the $3 pies!
Free Wi-Fi
Free Wi-Fi can be found throughout the Homestead Cabins and Resturant, however, we encourage guests to put down devices and embrace the tranquillity of nature.
Rates
Twin Cabin - from $90/night
Quad Cabin - from $120/night (minimum of 3 people)
Family Cabin - from $140/night (2A+2C)
*No minimum stay
Four Bed
Located only metres from the Homestead Villa and Restaurant, our four-bed cabins are equipped with large and comfortable king single beds, pull-down privacy screens and double duvets. USB plugs and power points can be found near each bed, and all cabins have free Wi-Fi, access to kitchen facilities, a private decking area and insect screens.
Book Now
Two Bed
Our two-bed cabins are home to two large and comfortable king single beds, each with double duvets and accessible USB plugins and power points. All cabins come with free Wi-Fi, a private deck and insect screen, access to a fully-equipped kitchen, and are located a stone's throw away from both the Homestead Villa and Restaurant.
Book Now
Communal Villa
The newly renovated Waitomo Homestead Villa was built in 1906 and serves up a fully-equipped kitchen, cosy communal areas perfect for relaxing or socialising, a wide selection of board games for guests to use and a book exchange. Outside you'll find a large and sunny deck, with eating areas and bean bags. Adjacent to the villa sits modern bathroom facilities and a coin-operated laundry. If you don't feel like cooking, our Homestead Restaurant is available onsite serving up delicious food for you and the crew.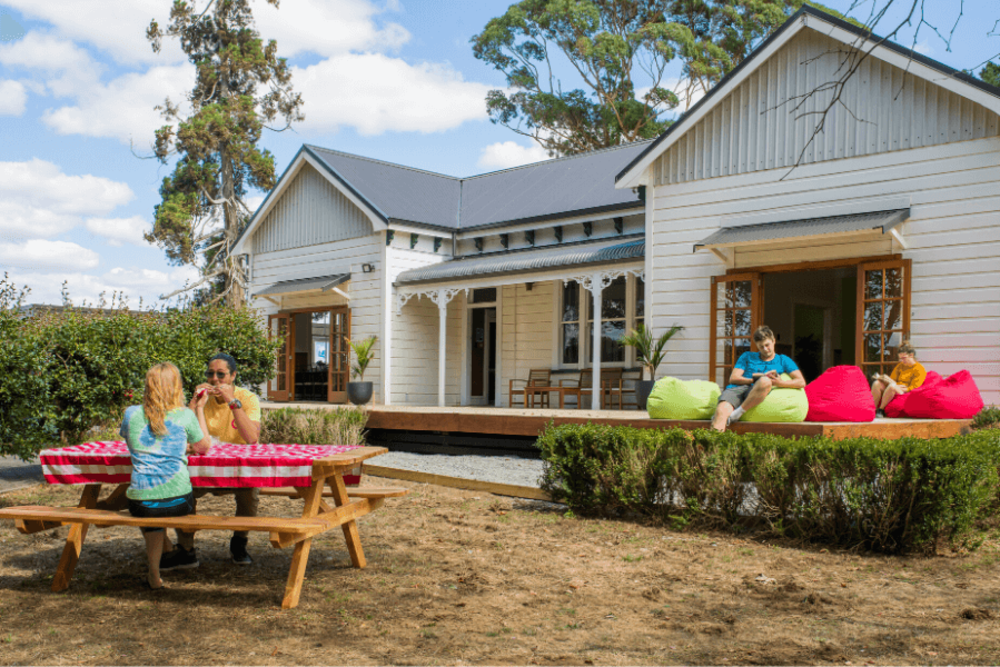 Book a room today
Limited Space, Book in Advance.