News and Media Enquiries
A large team of journalists, photographers and videographers from New Zealand will cover the event annually. This page contains resources to help media cover the event.
RESOURCES FOR MEDIA AND BROADCASTERS
Event Description | Fact Sheet | Media FAQ | Showcase Hidden Gems | Media Quality Images (Password protected, contact info for entry)
---
FOR MORE INFORMATION, CONTACT DISCOVER WAITOMO:
info@waitomotrailrun.co.nz
Or visit:
https://www.facebook.com/waitomotrailrun/
https://www.instagram.com/waitomotrailrun/
---
NEWS AND MEDIA RELEASES
12 March 2018. Good dirty fun for all ages at the Waitomo Trail Run. The countdown is on to the most unique adventure run in New Zealand.
Remember exploring down holes, up trees, scrambling over rocks and laughing until your face hurts? The Waitomo Trail Run is all that – an adventure for kids, both big and small.
The perfect end to the school holidays and a chance to sneak in some extra special bonding time with the family and friends, the Waitomo Trail Run will take place on 28 April, 2018. This is a truly unique New Zealand experience, taking you both under and over the ground on an adventure that promises to delight thousands.
With distances of 6, 11, 22 or 35km and the option to run or walk, this is nothing like your typical running race. In fact, it's not a race at all. It is a true adventure through some of the most extraordinary landscapes on the planet.
Challenge your family and friends to join you and come discover the hidden Waitomo, on private land that is not accessible to the public any other time of the year. Explore the surreal karst-studded landscapes, caves, native bush, vibrant working farms, tunnels, canyons and glowworms.
The courses have plenty of adventure, and some less-adventurous options, guaranteeing there is something for everyone. The scenery is simply breathtaking – you will run through the farms that Sir Peter Jackson has described as "way too pretty for The Hobbit".
Organiser Paul Charteris, the race director behind the globally renowned Tarawera Ultramarathon, has been working for many years to bring the Waitomo Trail Run after experiencing the magic of Waitomo himself.
"This is a kids' paradise. The 6k run/walk starts deep underground at the entranceway to the Ruakuri Cave and tunnels to explore through – they're small enough that the grownups need to duck down or crawl," Charteris says. "The 11k is up and over and around karst land formations that make this a paradise for kids to explore. Quite often the kids run off ahead of their parents and our finish-line areas become defacto child-minding zones."
Coinciding with the end of school holidays and multiple races for varied abilities, Waitomo is a definite crowd pleaser. Says Charteris:
"Some people turn up equating it to a city-run or walk – and it's very different to that. We have ropes to help you step up onto the larger rocks and optional hobbit holes to squeeze yourself though. There's a ton of laughter, good dirty fun and maybe even a stranger pushing your butt to help you up and over the tricky bits. It's not a race – in fact – it's the furthest thing possible from a race!"
The event completely sells out every year so get your entry in now.
---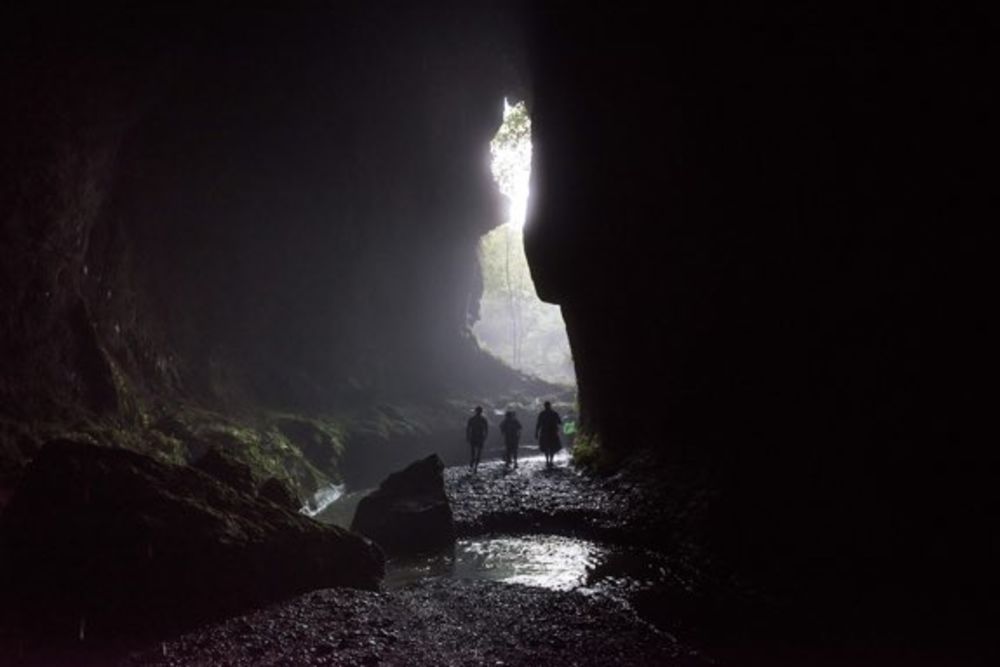 1 May 2017. Wet weather did not deter competitors in Waitomo Trail Run
Nearly 3500 participants took part in the event on Saturday 29 April – including young families and celebrities, alongside elite runners. With routes of 6km, 11km, 22km and 33km, participants faced a challenging karst-studded landscape not normally accessible to the public. Wet weather presented extra challenges on the already adventure packed course.
Rhys Johnson, first finisher of the 35km course from Auckland was competing for the second time. Johnson says:
"It was slippery, I had two big spills, but it was a beautiful course out there."
Only in its second year, the Waitomo Trail Run is already the largest of its kind in New Zealand, with competitor numbers up by 1900 from last year. Participants included well known elite runner Lydia O'Donnell, and the odd celebrity face. Newshub's Mike McRoberts and Samantha Hayes competed in the 22km and 11km respectively, along with eliminated Season 3 Bachelorette Sophie Russo who completed the 22km course.
Says Samantha Hayes:
"The course was tough, but scenery made the hard slog worthwhile. Native bush, rocky ridges, muddy clay paths – I loved it especially the slip sliding downhill!"
Her co-host, Mike McRoberts added:
"It was the best mix of challenging course and amazing terrain I've run. River crossings, cave tunnels and farmland – it was a real test. The family vibe was great – my own kids Ben and Maia did the 11k and had a ball! What a wonderful part of New Zealand Waitomo is."
Runners came from both New Zealand and around the world. More than 100 international runners were registered from Australia, the USA, United Kingdom, Finland, Spain, France, Brazil and Singapore.
Says Paul Charteris:
"Some runners appear to be here for the World Masters and added the run on to their New Zealand holiday. No doubt, the unique Waitomo landscape is what has attracted them. It's spectacular and we're really pleased to be able to showcase it in this way."
The Waitomo Trail Run is the first event of its scale to be held in Waitomo, made possible by the input and support from a number of community groups.
The event was a success in terms of sustainability also. Working in partnership with DOC, the Waitomo Trail Run was a 'cupless' event – saving an estimated 12,500 cups in the process.
---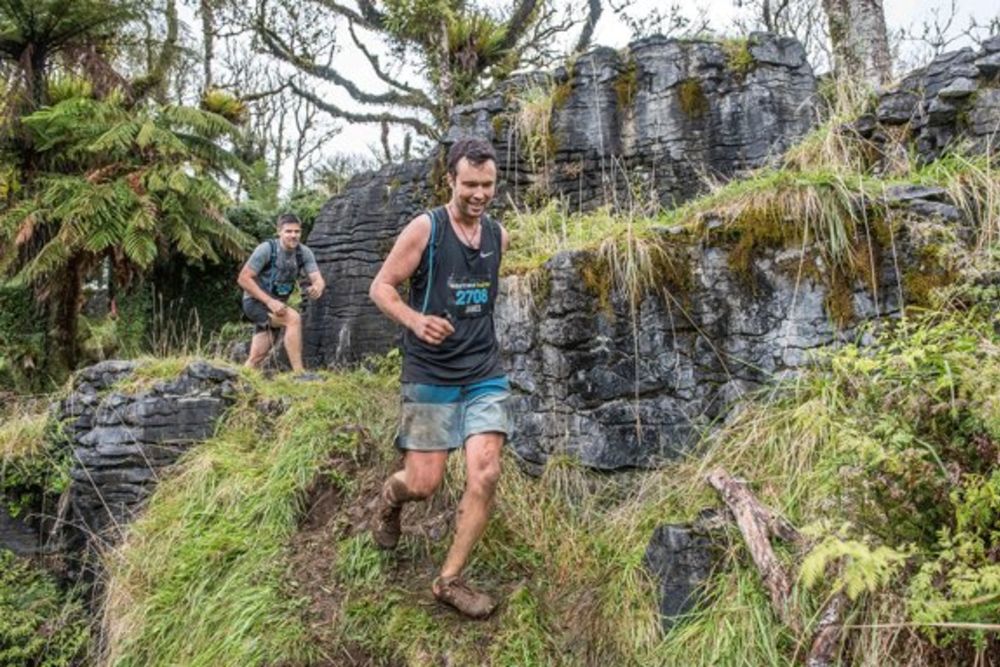 29 March 2017. Waitomo Trail Run Close To Full
Organisers of the Waitomo Trail Run are positively glowing as the event's popularity has soared in its second year to become the largest trail run in New Zealand.
On Saturday 29 April, more than 3300 runners and walkers alike will experience an opportunity of a lifetime as they traverse one of the most unique geological lines in the world.
There are four distance options in the Waitomo Trail Run including 6, 11, 22 and 33km, which pass through Department of Conservation reserves, as well as private farmland which can only be accessed on race day.
Race Organiser, Paul Charteris, from NZ Trail Runs, says he and business partner Tim Day are restricting entry numbers to make sure there is little disturbance to sensitive natural features.
"Together with the Department of Conservation, we have limited to 1250 runners and walkers the number allowed for the 22 and 33km distances. We have 1180 runners and walkers for those distances so we're nearly 95% full.
The shortest of the options, the six kilometre distance, is restricted to 1000 runners and walkers. Starting at the entrance to the Ruakuri cave, we need to keep a lid on numbers taking part since the very act of breathing can affect the millions of years old stalactite formations. The six kilometre distance has proven a hit with families and also 95% full with just 50 spaces left. "
The 11km distance option is not limited in numbers so entries will remain open for the foreseeable future.
Located in the ultimate playground in the Waitomo region, the course weaves runners and walkers through an underground and overground thoroughfare of karst-studded landscapes, caves, native bush, vibrant working farms, tunnels, canyons and glowworms.
"We strive to offer life-changing, unforgettable events in stunning locations. We want people to come and discover the 'hidden Waitomo' and to explore areas they wouldn't normally have the opportunity to discover."
Paul says the event is open to all ages and abilities, offering a unique opportunity to get out and about with family and friends. That is a large part of the events popularity.
"Waitomo Trail Run is about embarking on a unique adventure. Using the term 'race' doesn't define what this event is about. We want our participants to take their time on the course and explore what Waitomo has to offer."