Ten Tips For Hiking Waitomo With Your Kids
It can be hard to keep young children entertained on a hike. Well, it can be hard to keep young children entertained anywhere, really. Hiking with children has its very own set of challenges – but also its very own set of rewards.
1. Manage your own expectations
It's important to understand that, while little ones can be extremely energetic, they can burn through that energy quickly and, because their brain runs at an average of a trillion miles an hour, they get bored easily. If you're trying to get your kids interested in hiking and the outdoors, remember to start small and build up as you go, letting them set the pace so they don't start thinking of hiking as another boring chore mum and dad force them into.
2. Plan snacks
A big effort deserves a big reward. A succession of small efforts deserves some small rewards. Keep your little ones engaged and happy on the trail by packing up some of their favourite snacks then offer them as a reward for completing some sections (bonus M&Ms for kids who charge up the hills without complaining!). As a very important side note: remember to pack plenty of water as well.
3. Plan plenty of stops to let kids roam free and explore
Hiking is fun, there's no other way to go about it. This isn't a military parade and you cannot expect children to march to your own beat. Plan your hike to allow for plenty of stops, planned and unexpected. Let your kids explore their surroundings and play freely as they go and they're much more likely to enjoy themselves.
4. Pick a leader for different sections of the hike (and make sure everyone has a go at being the leader)
Children thrive on responsibility and they love being in charge. One of the ways you can get your children interested in the hike is if you give them a sense of ownership of the activity. Allow them to lead the way for portions of the trail and get them to choose which way to go whenever possible. They'll love to feel like they're in charge and they're choosing the way to go.
5. Leave nothing but footprints
Hiking is a leisure activity but it is also a great opportunity to educate your children on how to be good eco-citizens. Take the opportunity to teach them about nature and the importance of trees and the whole ecosystem around them and talk to them about the role they play in keeping nature alive. "Leave nothing but footprints, take nothing but photographs".
6. Hike somewhere with a reward at the end, rather than just for the sake of it
While grownups can enjoy hiking just for the sake of it and can enjoy a loop track that begins and ends at the carpark with not much else in between, the same can't be said for children, who might need a bit more incentive to get out. Choose a waterfall or some other type of natural feature, for example, and make that your end destination, your goal for the day.
7. Make it fun
Kids get bored quickly so make sure you come up with a few creative ways to keep them engaged. Get them to count things they see, identify plants and trees and play grames like "I spy" or "guess the animal".
8. Let them get dirty
I know, I can almost hear you from here: "You're not the one who has to wash their clothes". But seriously, let kids get dirty. Nature is not just to look at, it's a full sensory experience. Letting kids play with dirty will also boost their immune system, according to experts, so getting out and getting muddy is actually making them healthier.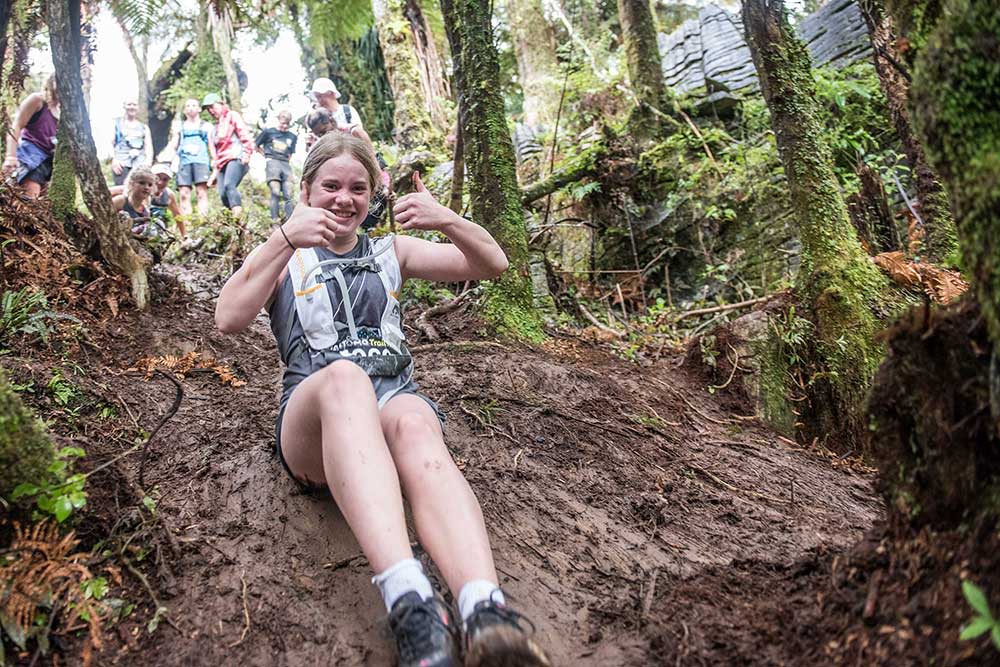 9. Involve them in the planning and preparation
A family hike is a fun adventure to plan. Rather than expect your kids to just show up and go along with whatever you plan, get them involved in the planning. Let them decide where to go, what to pack, etc. It'll teach them responsibility as well as get them excited about the adventure.
10. Bring a mate
You know the whole saying about how happiness is only real when shared? It applies to the trail as well. Let them bring a mate and share that experience as it'll make it more fun for them (and hopefully less tiring for you).