Team Building Activities
Energise your team, and take a break from your function and step back in time to an ancient underground world full of intricate limestone formations, hear stories of old, see strands of starry lights of Titiwai (glowworms), learn of our conservation focus and Tiaki promise. We cater for all ages, all fitness abilities and confidence levels.
Waitomo Glowworm Cave - 1hr
Known as one of New Zealand's best natural attractions, experience the serene ambience as your enter this galaxy of tiny living lights and take a boat ride through the glow worm grotto. Many of our guides are direct descendants of the Maori chief who originally explored the cave, brining the cave to life through story-telling and explaining the history, features and legends of the world-famous cave.
Ruakuri Cave - 1.5hrs
Ruakiri Cave is an experience that must be seen to be believed. Offering a captivating blend of the most compelling subterranean experiences (including glowworms), it will leave you open-mouthed, awe-struck and humbled by the sheer majesty of natuer. Our Ruakuri Cave offers full wheelchair access and both the cave and its visitor centre is proudly powered by 100% renewable energy. Photography is permitted in this cave.
Aranui Cave - 1hr
View the finest cave formations of all the caves in Waitomo. High chambers, magnificent limestone formations and the pale brown, pink and white shades of the enormous stalactites make Aranui Cave truly spectacular. Dissover the exquisite interior decorations as your guide takes you along boardwalks into narrow chambers. ALmost every corner of the roof and walks in Aranui Cave are adorned with fragile, sparkling forms in our most intimate cave system.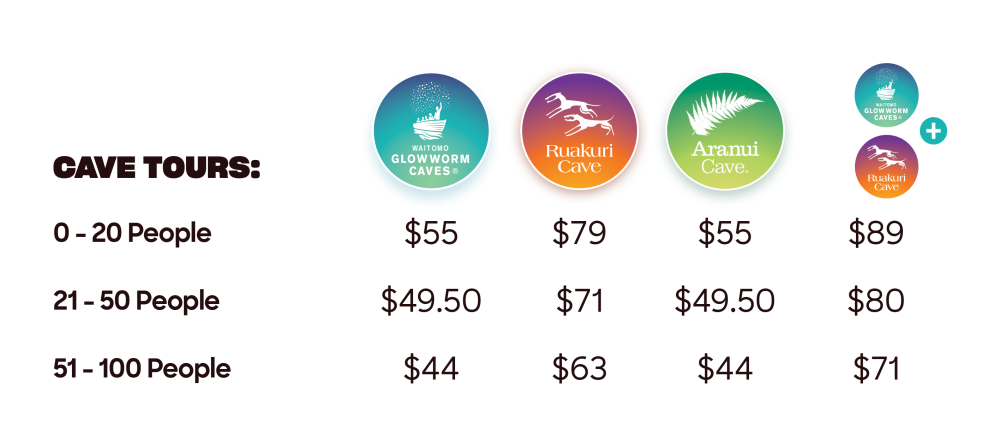 Black Water Rafting
Bump up team morale and give them an experience of a lifetime! Black Water Rafting is suitable for all fitness and confidence levels and is a fun and exhilarating way to strengthen your team's bond. At Discover Waitomo safety is paramount, our guides know that whilst this unique underground environment is a second home to them it may be a first underground adventure for you and your team. Our experienced guides are professional, knowledgeable and supportive. We pride ourselves on our commitment to ongoing training to ensure that safety and your experience is exceptional.

Get in touch today and we'll provide you with a tailored proposal for your team. Venue and dining options can be included, as well as support with accommodation, transport and local knowledge.
✉Email: events_functions@thlonline.com
☎ Call: 0800 456 922