What is Black Water Rafting?
The ultimate underground experience and the most fun you'll have in the dark
A weekend adventure like no other, Black Water Rafting is a bucket list must-do and guaranteed to get your adrenaline pumping. Head 80-metres below ground, raft in tubes through underground rapids, jump off waterfalls and float below a sky of glow worms, all whilst exploring one of New Zealand's most diverse cave systems. What are you waiting for?
What can I expect?
Once you've checked in it's time to meet your guides, and you'll figure out quickly that you're in good hands. Our guides are some of the friendliest and most-passionate cavers around, and they know Ruakuri like the back of their hands. They'll get you kitted out in a wetsuit, rubber boots and helmet, before taking some pre-cave team photos for you.
Then it's time for a practice run. If you're doing the Black Labyrinth, this means perfecting jumping into the water in a tube. If you're doing the Black Abyss, you'll get to practice basic abseiling skills ahead of your 35-metre abseil into the caves.
Then it's time to head into the caves. For team Black Abyss this means getting rigged up and doing an exhilarating abseil into the depths of the cave. Of course, your guide will be there to keep you safe and take some photos. You'll then be hooked up to a zip line, and proceed to fly through the pitch-black cave.
For both tours, it's then time to get in your tubes and raft the underground river, below a sky of glow worms. You'll also get to raise your adrenaline levels and jump off a few waterfalls. For those on the Black Abyss, you'll have extra time to explore the cave tube-free, including climbing up waterfalls and floating through the caves. Guides will be on hand with sweet treats throughout both tours to keep your energy levels up.
Once your tour is over you'll head back, remove your caving gear and get to enjoy a well-earnt hot shower, then onto the Waitomo Homestead, where this tour ends. The photos your guide took on your tour will be available for purchase after the tour, so check them out here!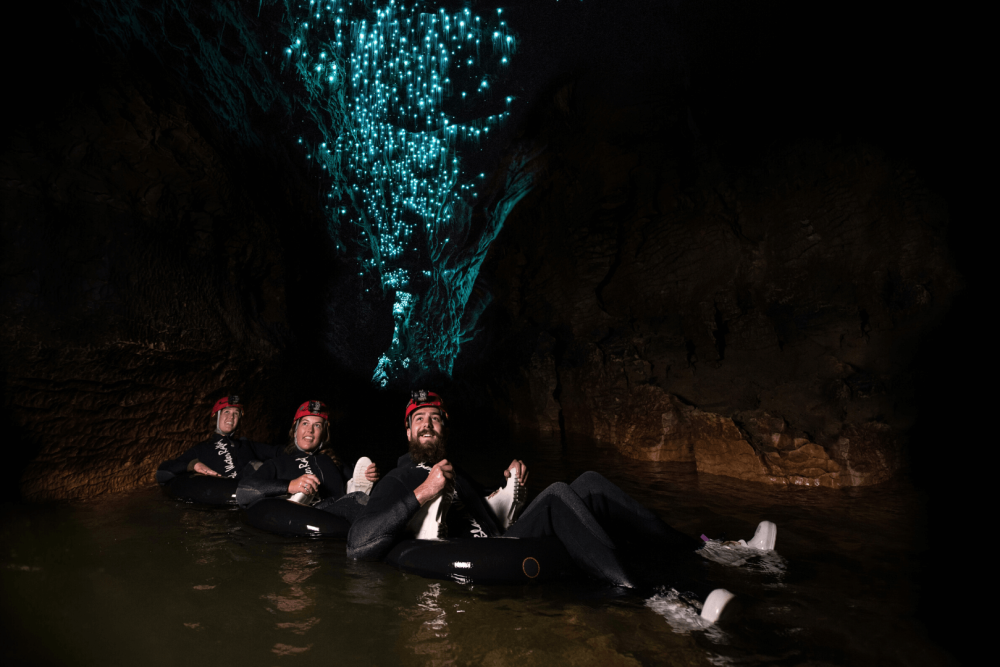 What is the difference between the Labyrinth and the Abyss?
The Black Labyrinth is the original Black Water Rafting adventure and will take you on a tubing exploration around the cave. You'll enter the cave through a hole in the rock and be straight into the underground waters. With your tube on hand throughout the whole tour, you'll float under a sky of glow worms, slide into fast-flowing water, and jump off not-too-high waterfalls.
The Black Abyss is for those that want to get their adrenaline pumping a little bit more and see everything the cave has to offer. This adventure starts with an exhilarating abseil into the cave. You'll then be hooked up to a zip line and get to fly through the pitch-black cave. Next, you'll pick up your tubes and after jumping into the water you'll float beneath a sky of glow worms and through the underground river. Your guides will then send your tubes up to the top of the cave, and you'll be free to float through the fast-flowing waters using the buoyancy of your wetsuit. From climbing up waterfalls to crawling through holes; the Black Abyss truly gives you the maximum cave experience.
Who is Black Water Rafting for?
Whilst the adrenaline junkies out there are already halfway into their wetsuits, the less adventurous might be wondering whether Black Water Rafting is for them. But worry not; with two tours to choose from, there's an underground adventure for everyone.
The Black Labyrinth is the original Black Water Rafting tour and an excellent choice for those that are a little nervous. On the other hand, the Black Abyss is ideal for those seeking extra adrenaline and wanting to maximise their underground exploration. You must be at least 45kg for these tours, 12 years or older for the Black Labyrinth, and 16 years or older for the Black Abyss tour.
Both tours are suitable for all fitness levels, and no prior caving experience is needed. All we ask is that you come with energy and enthusiasm and be ready to push yourself slightly out of your comfort zone. We promise it'll be worth it.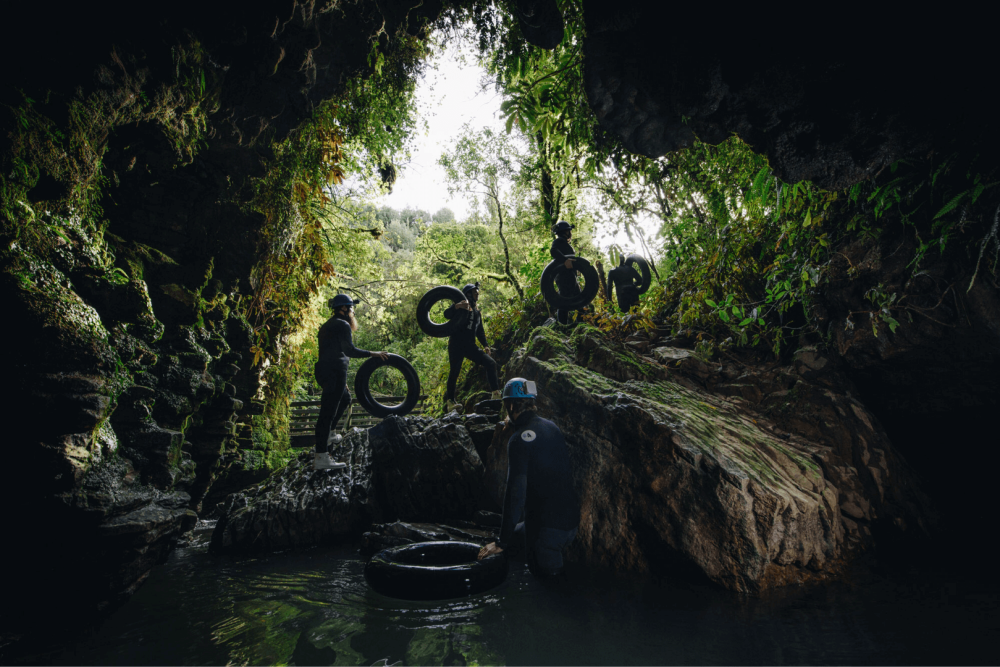 Do I need to book in advance?
With a maximum of 8 people per tour on the Black Abyss and 12 people per tour on the Black Labyrinth, it's advisable to book as far in advance as you can to avoid disappointment, especially during the summer season. Tours can be booked online here.
What do I need to bring and wear?
All the caving equipment you'll need, a helmet with a headlight and a thick wetsuit with rubber boots, is provided upon arrival, so all you need to bring is yourself, swimwear and a towel. The cave water temperature sits around 10 to 14 degrees year-round, so it's also advisable to get a travel-sized shower gel for the hot showers waiting for you once you leave the cave and some warm clothes to put on afterwards.
How long should I spend in Waitomo?
Waitomo has tonnes to offer and is a great weekend destination. Book yourself a night at the Waitomo Homestead, and explore the famous Waitomo Glowworm Caves and Aranui Cave. On foot, you can even check out the cave you've just rafted through, Ruakuri Cave. Waitomo isn't only underground; spend some time soaking up the sunlight and exploring the countless free walks and natural attractions in the area.
The Legendary Black Water Rafting Co has a Safety Management System audited and certified by OutdoorsMark against the Safety Audit Standard for Adventure Activities.