COVID-19 Protection Framework
Please familiarise yourself with our COVID-19 Protection Framework ahead of your visit to the caves.
As per NZ Government Policy all general visitors to the Waitomo Glowworm Caves, Ruakuri Cave, Aranui Cave, Black Water Rafting, The Waitomo Homestead and the Waitomo Homestead Cabins will need to show their "My Vaccine Pass" (or the equivalent pass issued by your native country), when they arrive. It is also mandatory for everyone over 12-years and three months (except for those with medical exemptions) to wear a face covering when they visit and scan in on arrival.
All visitors to the Discover Waitomo attractions and hospitality sites are advised to book their visit with us in advance, either via the website or by calling 0800 456 922. Thank you for your support and understanding.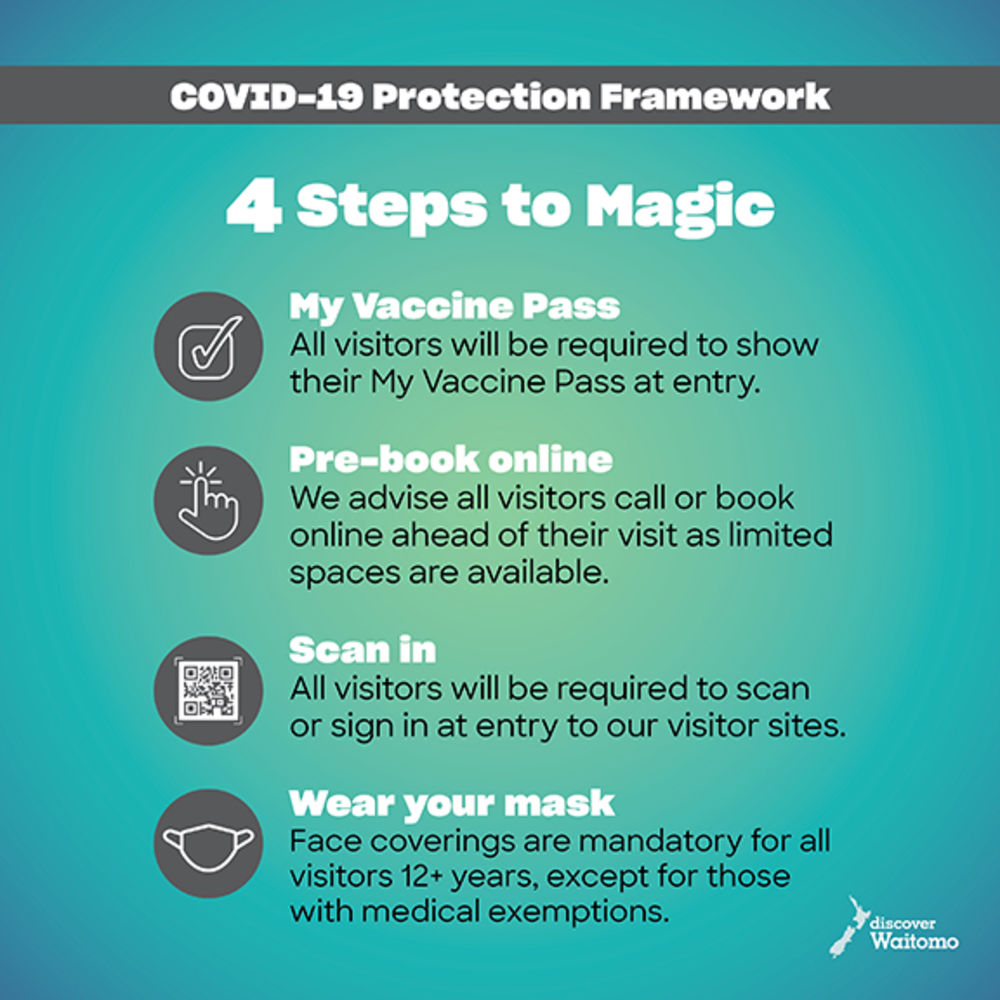 Our team is fully vaccinated
The Discover Waitomo team is 100% committed to maintaining the highest standards of service, hygiene and protection as required by the NZ Government Covid-19 Protection Framework. Our team greatly appreciates your patience and compliance as we all adjust to the new operational requirements to keep each other safe.
We acknowledge and respect that not everyone wishes to be vaccinated against COVID-19. However, in order to properly operate, Discover Waitomo is operating under the NZ Government guidelines and legislation including the COVID-19 Protection Framework. From 3rd December 2021 until such time as vaccination restrictions for tourism and hospitality providers are lifted, we will require all visitors to provide proof of vaccination or a valid medical exemption prior to entering our site, or we will not be able to provide access. No refunds will be given within 24 hours of arrival if there is a failure to comply.
Thank you for your co-operation and support.